A Focal Reducer is mounted to the 1.3m telescope. The Focal Reducer can be used in two different configurations:
1. In the imaging mode the focal length of the telescope is reduced by a factor of 1.87, enlarging by the same factor the imaged area of the sky on the CCD. A Filter Wheel with 6 filter positions is integrated to the Focal Reducer.
View the list with available filters here excluding those of 100 mm diameter.
Front view
2. In the spectroscopy mode a reflection grating is introduced in the collimator path. Using different gratings, resolutions ranging from 0.57Å/pixel to 4Å/pixel are achievable with a 13.5μm 2048x2048 pixel Ikon-L CCD camera.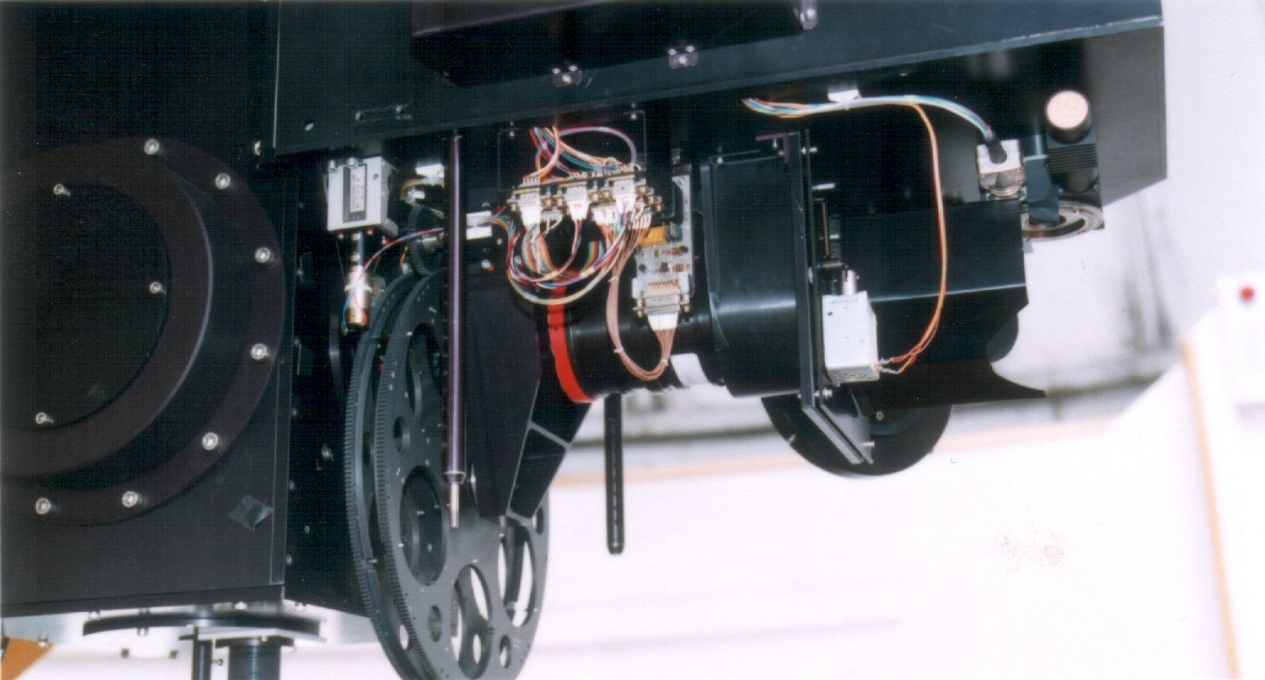 Side view
GRATINGS FOR THE FOCAL REDUCER
| | | | | |
| --- | --- | --- | --- | --- |
| Lines/mm | Blaze Wavelength (nm) | Wavelength in1.order for max. Intensity | Dispersion (Å/mm) | Mounted |
| 3600 | 250 | 231 | 25.41 | No |
| 2400 | 430 | 397.3 | 37.8 | Yes |
| 1302 | 550 | 508.1 | 70.44 | Yes |
| 1302 | 480 | 443.5 | 70.27 | Yes |
| 1200 | 700 | 646.7 | 76.39 | Yes |
| 651 | 530 | 489.7 | 137.6 | Yes |
| 600 | 750 | 692.9 | 150.8 | Yes |
| 600 | 500 | 461.9 | 148.4 | Yes |
| 325.5 | 550 | 508.1 | 269.0 | No |
| 325.5 | 430 | 397.3 | 267.3 | Yes |
| 162.75 | 500 | 461.9 | 529.1 | No |